Hydrocolloid PreMix
Highly versatile hydrocolloids deliver superior functionality as a gelation, suspension, emulsification, stabilization and thickening agent.

Different applications for wet food - pouches, chunks in jelly, chunks in gravy, pates, cans for dogs/cats.

Hydrocolloids are added to aqueous pet food for improving functional properties of final products, such as water binding, thickening and gelling. Many hydrocolloids are derived from natural polysaccharide sources. They have also an important effect on organoleptic properties. Typical hydrocolloids are carrageenan, guar gum, xanthan gum, Locus bean gum, konjac gum, alginate , cellulose gums etc.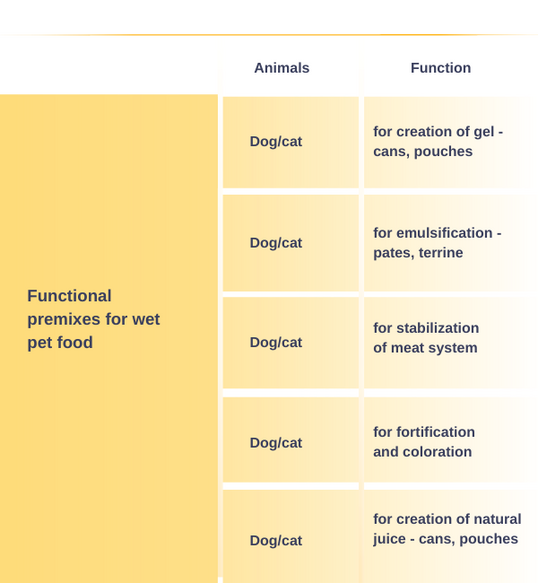 We create blends as mix of different hydrocolloids. The main and very important reason is interaction between the single hydrocolloids to create the right functional properties. The individual hydrocolloid works in different conditions as temperature, mineral salts, pressure…. The suitable combination of individual and specific hydrocolloids creates requested properties of different products.
Commonly used hydrocolloids blends are for water binding and creating of texture and gels. The requirements for gels in final products are different, most important are firm, elastic, soft, cloud, clear and with colorant.
​​​​​​​​​​​​​​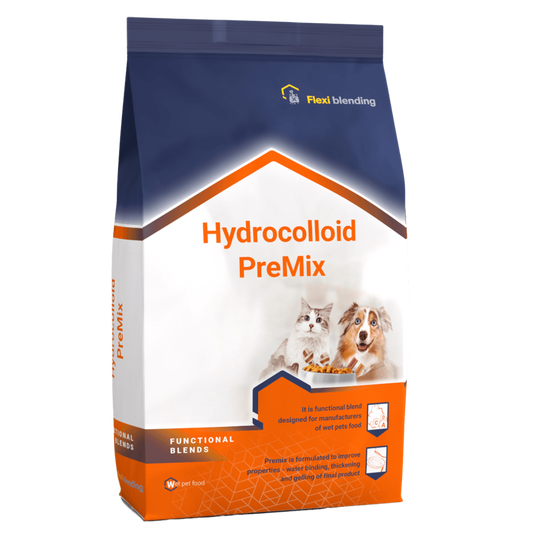 ---