New product - COLOSTRUM stick with strawberry flavour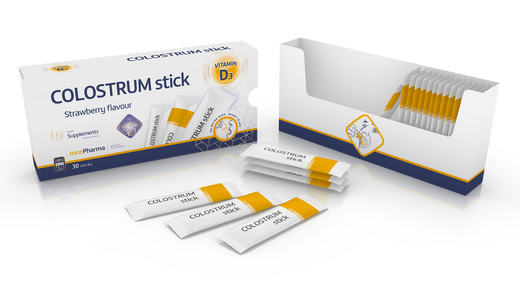 We proudly announce new product in our portfolio - COLOSTRUM stick with strawberry flavour and vitamin D3, food supplement in the form of powder directly soluble in the mouth.
Innovative form of food supplement for support of immune system. Fully natural product with grate strawberry taste.
Easy to use - no water need, ready to go.
Specially developed for children and people who have difficulties to swallow capsules and tablets.
Colostrum can be characterized as the primary milk, which is unique due to its extraordinary composition and beneficial effects. Colostrum contains significant complex of immunoglobulins – antibodies which are a part of the immune system. For maximum immune system support enriched with vitamin D3.
Also available in combination with B-complex.
Product is offered under our label or as private label, looking for distributors!
Feel free to contact us on sales@mcepharma.com