Vegan essential now with resveratrol!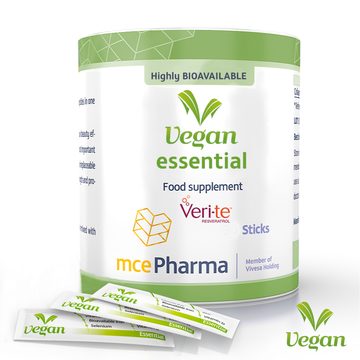 One of your favourite product Vegan essential now with Veri-Te resveratrol!
One serving of orally soluble powder provides the essential vitamins and minerals, that are missing in vegan diet.
Now with Veri-Te resveratrol which is very effective antioxidant. Scientific research and clinical data suggest that resveratrol works at a cellular level to assist healthy aging through bone health, cardiovascular health, blood glucose control, healthy cognitive function, skin youthfulness and oral health.
For more information about Veri-Te resveratrol click here, for information about Vegan essential here.
We are looking for distributors worldwide, contact us at sales@mcepharma.com or by phone +420 556 778 411