mcePharma has opened a new generation of multifunctional complex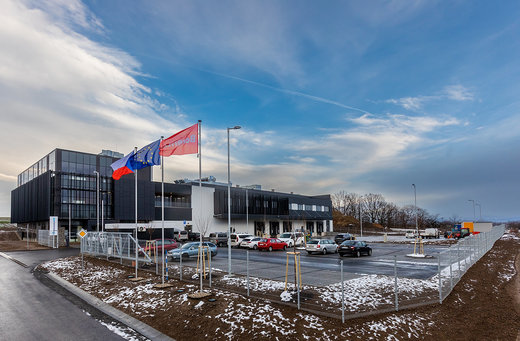 The company mcePharma, based in Bílovec in the Novojičín region, entered into 2022 ambitiously. In Fulnek, in the village of Stachovice in the Czech Republic, they opened a modern development, production and distribution center focused on pharmaceutical, veterinary, and food services. The 10 million EUR complex, with an area of 15,418 m2, was ready in less than eight months and will bring new jobs in addition to top services.
Stachovice HUB offers an entirely new type of services and quality solutions for companies interested in development, production, warehousing, or logistics in the pharmaceutical, food, and veterinary industries.
The whole area uses elements of artificial intelligence, by the semi-automated storage system KARDEX, designed to store samples and small supplies. The storage capacity is 5,000 pallets and draws from the state-of-the-art management system (WMS) the superior accuracy of storage, inventory management, and overall production.
"The operation in Stachovice is unique from many points of view, one of which is the obtained certification GDP (good distribution practice) and EXCiPACT (certification for blending of pharmaceutical excipients). McePharma has thus reached two important milestones - we have become the first company in Central and Eastern Europe to successfully pass EXCiPACT certification and can operate to the highest achievable level of purity requested for pharmaceutical excipients," explains Andrea Dolezalova, executive director of mcePharma s.r.o
More than 150 employees will gradually find work in the modern complex in various job positions in the areas of development, quality, management, production and science. It is already clear that the storage space will be filled soon, also thanks to the suitably chosen location of the complex with excellent connections to the main transport corridors. Therefore, storage capacity is expected to expand in the near future.
Stachovice HUB with a strategic connection to the main transport corridors offers the following services:
• Warehousing in a certified warehouse GDP (Good Distribution Practice), a semi-automated warehouse with subsequent distribution worldwide. The total capacity of the warehouse is 5,000 pallet places
• Strategic location in the centre od Europe
• Blending of pharmaceutical excipients under EXCiPACT certification, in clean room class D (ISO 8 according to EudraLex - Volume 4 - Guidelines for Good Manufacturing Practice (GMP))
• Blending of food grade powders under ISO 22000: 2018, in Class K clean rooms
• Blending under GMP+ certified compound feed in separate areas
• Total capacity 8150 MT / year
• Repackaging of APIs - active pharmaceutical ingredients (GMP certification is expected in March 2022)
• Sampling for the pharmaceutical, food and cosmetics industries and subsequent distribution of samples worldwide
• Development of food supplements and supplementary feeds in the form of tablets and powders
• Development services - application and development laboratories "Innova laboratory"