mcePharma team Christmas party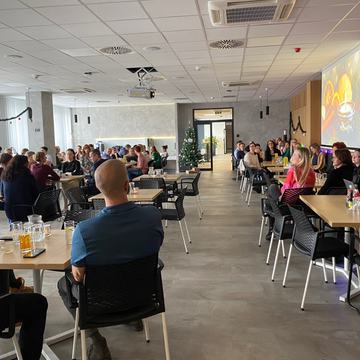 mcePharma team Christmas party was held on December 21th at StachoviceHUB. As has become the tradition, we began our evening socializing and warming up.
The lunch was a wonderful collection of wrapped filet stuffed with trout salmon phase, chicken broth with meat, liver dumplings and noodles, pork braid with English bacon, mushroom sauce, gratin potatoes and finally poached pear in red wine with vanilla ice cream for dessert.
Such exquisite dishes were prepared by our team of professional chefs who constantly cook lunches for the staff.
After lunch, we spent time in small groups solving logic tests, answering hard questions, opening secret locks, and looking for the key to the prize box.
We had a wonderful memorable Christmas Party by enjoying the time together with everyone.