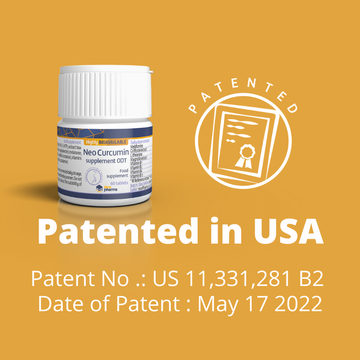 We are proud to inform you that we received patent for Neo curcumin supplement ODT in USA!
Patent No .: US 11,331,281 B2
Date of Patent : May 17 2022

About our product: The key question associated with curcumin is its bioavailability. Even at high doses of unprocessed native turmeric, only a very small amount of curcumin is absorbed by human body, the rest of it is eliminated without any effect. Developed in cooperation with First Faculty of Medicine of Charles University, Czech Republic - scientific study confirmed 100% absorption of curcumin in comparison to classic products, and 220x increased solubility of curcumin.

Health benefits:
• anti-inflammatory effects
• antidiabetic effects
• antioxidative effect
• immunomodulant

It patented also in Czech Republic (CZ 307916)

Our product is in form of orally soluble tablets ODT, for maximum absorption and easy use.
Looking for distributors - contact us sales@mcepharma.com