Stachovice - modern, timeless and efficient workplace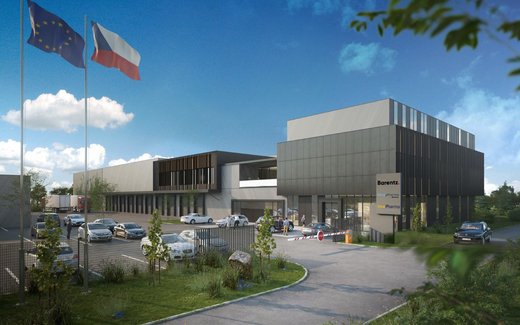 The company mcePharma from Bilovec in the Novo Jicin region, which develops and manufactures food supplements, has been preparing the construction of a new production, development and logistics center in Fulnek, Stachovice. Expected costs are approximately 200 milion CZK. All resources will be Czech. At least 120 jobs will be created. Mrs. Andrea Dolezalova, Executive Director of mcePharma, told it to CTK. According to Mrs. Dolezalova, it will be the modern complex focused on food and pharmaceutical production. Development and analytical laboratories will be included. "Within the food operation, where food supplements will be produced, we would also like to have a part that will be approved by the National Institute of Public Health and small pharmaceutical production will be able to take place there," said Dolezalova.
There will also be a large storage center on site, which will be also used as a central warehouse for active pharmaceutical ingredients for the European market for our foreign contractual partners. "The total area of the complex will be 12,000 square meters. We assume that the construction will start in the the autumn of this year and will be finnished during at the turn of spring and summer next year when the complex in Stachovice will be open." said Director. Currently, the company has 15 employees and produces in one shift. With the opening of the new center, we expect a significant increase in production. "In our existing production, we will be able to have a two-shift operation during this year. In the new production plant, we anticipate that we would have up to three shifts. The capacity of the plant in Stachovice will be 120 to 150 employees,"said Mrs. Dolezalova. McePharma is already working on a recruitment strategy.
"The capacity of the plant will be large and we have to prepare in advance to be able to hire high quality employees there" said the director.
The company will need employees from various professions, in addition to production operators and warehouse workers, but also middle and top management. "We are already actively looking for new employees in the sales department. We are looking for leader of development team, we are looking for capable colleagues in purchasing, quality control, so that we can gradually expand the team and prepare for the amount of work to be incomparably higher than now," said Mrs. Dolezalova. During the outbreak of the new coronavirus pandemic, she considered considering whether to suspend the project. "We decided to continue the project despite all the uncertain visions that now rule the economic world. Certainly a crisis of a deeper dimension will come, however, we hope that it will not be drastic in our field of pharmaceuticals and food supplements, "said Mrs. Dolezalova. McePharma is a Czech company that develops and manufactures innovative food supplements, specializing in orodispersible tablets or powder forms in separate sachets and sticks. It also produces supplementary food for dogs and cats. Mrs. Dolezalova said that mcePharma focuses on innovative solutions and cooperates with universities and scientific institutes. Innovation is defined in significantly higher absorption than conventional products on the market. The company exports 98 percent of its production, mainly to the European Union, but also to Saudi Arabia and the United Arab Emirates. Part of the production is exported under its own brand, part is produced for business partners. The company is also engaged in custom development. Last year, McePharma generated turnover of 18.5 million CZK, year-on-year higher by more than 50 percent.